WebWise Rule 6:
Google's prime directive is to give its users exactly what they are looking for, in a quick hurry.
Let's all do more of that.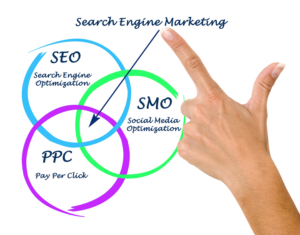 Google is definitely the ocean that your customers and prospects (and competitors) all swim in. If you don't have a strategy yet for getting traction in that marketplace, you are in for a treat when you see what is possible.
Google (the 800-pound gorilla in the search engine world) is always tinkering with the rules of the game. So the strategies that may have worked for you five years ago are probably a bit obsolete now in some important ways.
For example, the focus on achieving a specific keyword density–long the hallmark of SEO strategy — has shifted to a focus on Latent Semantic Indexing(LSI), which is the idea that the topics being discussed on any given page PLUS the topics of the other pages on your site should be factored together to help Google determine what kinds of conversations your site is authoritatively participating in.   This is a much more sophisticated way for Google to determine which pages to display on the SERP.
Google made this change in response to people trying to game the Google algorithm by repeating their target keywords over and over on a page — a practice called "keyword stuffing." If you've ever read a page that was stuffed like this, you will understand why Google felt duty-bound to protect us from this awful practice.  (Thank you, Google)
Here's an example of keyword stuffing that Google offers as a helpful tip, in case someone wonders if they've gone too far:
We sell custom cigar humidors. Our custom cigar humidors are handmade. If you're thinking of buying a custom cigar humidor, please contact our custom cigar humidor specialists at custom.cigar.humidors@example.com.
We can help you with any of your Search Engine Marketing needs. Our team has expertise in:
Optimizing your existing pages with the newest strategies, to make them easier for search engines to find and delightful for real people to read
Designing PPC campaigns, including writing the ads and the target page content
Creating pre-event and post-event Display and PPC campaigns that drive registrations and re-engage attendees after the event
Managing your PPC program to achieve your objectives within your budget
Helping you manage changes to brand names
WebWise Synergies
There is a beautiful balance between Google's focus on LSI, our focus on content strategy, our ability to build communities, and our ability to provide web writing and blogging.  Using a combination of WebWise services, we can equip you for success, with content that is rich, relevant, aligned with customer needs, and optimized for search.